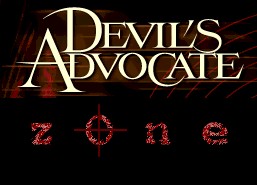 The newest attorney at the world's most powerful law firm has never lost a case.
But he's about to lose his soul.
Evil has its winning ways.
Speak of the devil

This site is dedicated to "The Devil's Advocate" which was released in 1997.
A summary of contents of this website :
the MULTIMEDIA section

THE MOVIE section

the LINKS section

Photos

Trailer

Sounds

and more........

Plot Summary, buy it

Goofs, cast

Quotes of the movie

Awards

Filming Locations

Trivia

Links related to movies including :

Reviews

Official Site & other unoffial sites
so keep in touch

This webpage is best viewed in

& with 800x600 resolution.
This webpage is owned by Faraz (fmughal@hotmail.com)
---
This is a stop on the Keanu Ring of Fire!
<--- Skip One
Previous
Next
Skip One --->
Random Site
List Sites
The Keanu Ring of Fire is owned by Romeo Rainbow.
---